If you have an interest in working with Clark Dietz as a partner, or working for Clark Dietz as an employee, you may have noticed we have been a Certified Great Place to Work (GPTW) for two years-running.
To say we have only been a great place to work for two years would be underselling ourselves. We have been completing our own internal employee satisfaction survey each year since 2009. We have always maintained that we provide a very positive, employee-centric work atmosphere, but what is truly the measure?
A third-party evaluation tool like the Great Place to Work survey can provide external validation of our efforts to strengthen and improve our corporate culture. Once again, in 2022, we are proud of the results:
96% of employees said that they are made to feel welcome when they join the company
92% of employees say they are encouraged to balance their work life and personal life
94% of employees feel that management is competent at running the business and similarly act honestly and ethically in business practices
93% of employees feel a sense of pride in the work we accomplish
It is extremely important to our firm that we solicit feedback from our staff to hear how we are perceived internally. Surveys like GPTW provide actionable data and real comments from employees that we can use to improve our culture. Learning the key drivers of employee satisfaction can help us plan to address any shortcomings.
Some areas of improvement as identified by the survey include involving employees in decision making, being approachable and providing clear answers, and showing appreciation for individual effort. To that end, our leadership team and Culture Committee are analyzing our survey results, and soliciting additional feedback from staff. A question that deserves to be addressed is why we specifically chose the Great Place to Work survey over a myriad of other employee satisfaction programs.
Clark Dietz is a values-based organization that aspires to live up to our trademark, engineering quality of life. Our core values of Commitment, Flexibility, Community, and Trust are evident in the work we do for our clients, the experiences we share with our coworkers, and the improvements we make in the communities we serve. Similarly, the categories of the GPTW survey, Credibility, Respect, Fairness, Pride, and Camaraderie, align well with our own beliefs. Additionally, the GPTW survey is not geographically specific so it covers all of our offices.
GPTW also has very stringent requirements, mandating an 80% response rate from employees to achieve certification. We have exceeded the required response rate for each certification attempt.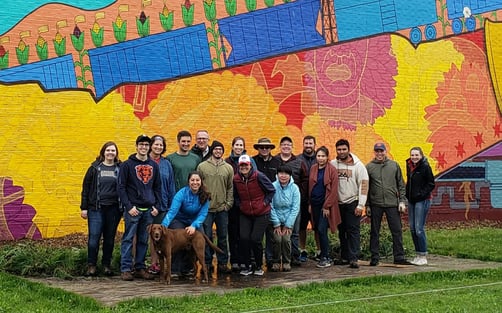 Volunteer Day Off at El Paseo Community Garden in Chicago, IL
The responses to the GPTW survey represent individual journeys at Clark Dietz, and what both staff and the firm learn from year to year. Importantly, the survey gives us a demographic breakdown to identify employee groups that may perceive our culture differently, or perhaps may need some additional attention to achieve their maximum level of satisfaction. New employees are continually entering the firm, and yearly feedback allows us to track their changing cultural priorities, as well as the way they affect change in the firm's overall ideals and values.
I see our efforts as a never-ending quest, we will always try to do better—to be better as a firm who recognizes employee satisfaction drives client satisfaction and the financial success of our firm. I see our Certification as a Great Place to Work as a legacy to live on into the foreseeable future. I believe we'll always have a strong foundation for continuing to provide an exceptional work environment.