Drones are a great benefit to the civil engineering industry. When used throughout construction and post-construction, documented videos or photos can show the project progression for public information purposes or client record. Video or photo documentation of pre-construction conditions on project sites can even be used to aid in legal disputes.
Drones can:
help capture data that was previously difficult or impossible to acquire.

be used for supplement survey.

help document construction activities from a variety of viewpoints with both images and video.
But if you want to enhance your drone capabilities, you should consider pairing it with photogrammetry.


What is photogrammetry and how does it work with drones?
A drone is pre-programmed with altitude, speed, and flight path to capture hundreds of images of a project site along with a preset grid. As the drone captures images, its GPS unit is recording the horizontal and vertical positioning of the drone as well as the angle of the camera. All of these photos can then be stitched together in post-processing software using a process called photogrammetry to create a 3D model and surface of the existing site. Then, this 3D surface is calibrated and tied to a local coordinate system using ground control points that are surveyed using traditional methods. With ground control points, the final product can obtain accuracies of up to 1 centimeter. This result is dependent on the drone model, photo resolution, and the ground control points accuracy.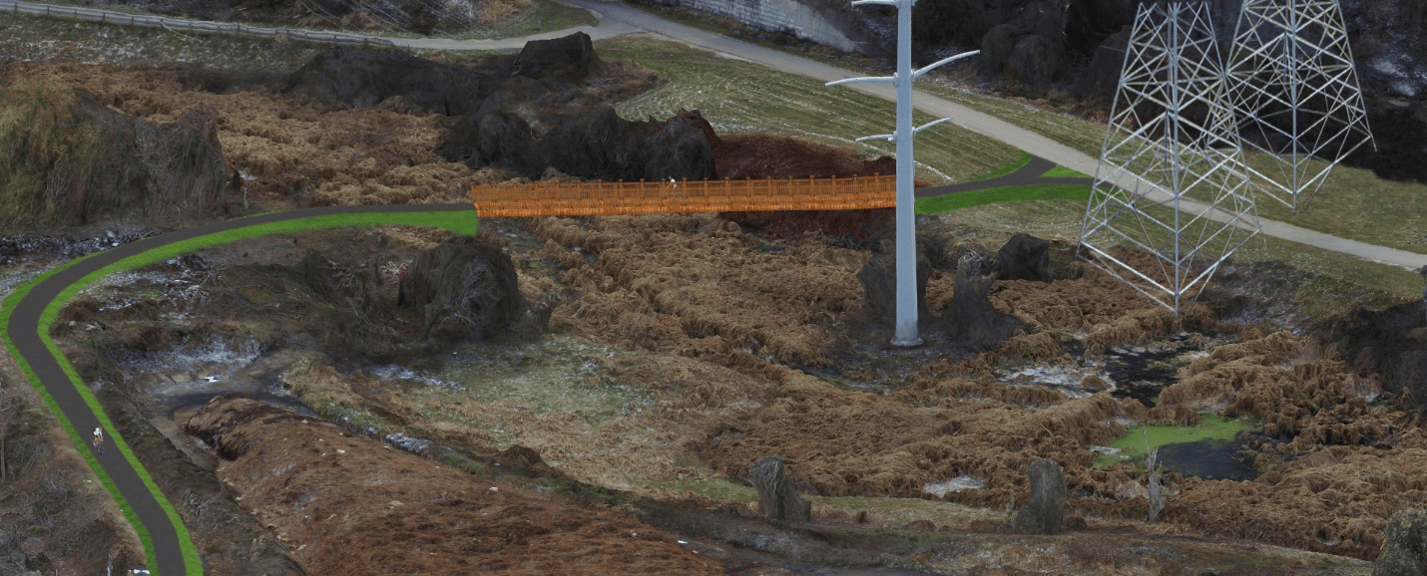 Photogrammetry with Drone Combined with Proposed Bike Trail
What are the benefits of using photogrammetry with drones?
Allows for the production of a more affordable, quick survey that the client could use to determine the feasibility of a proposed project without investing money in a full topographic survey. It can also be combined with traditional topographic surveys to help reduce the overall cost and level of effort.

Produces a realistic 3D model that can be used to convey design ideas to the public or non-engineering minds. Since the 3D model documents existing conditions of a site, it can be referenced by the designers from their desktop thus reducing the need for additional field visits.

Produces current, high resolution, geo-referenced, 2D aerial imagery that can be used for project design purposes. This aerial imagery will be more current than Google Earth imagery as well as most aerial imagery provided by the client.

Saves time overall. Sometimes waiting on a full topographic survey or LiDAR data from a client can take weeks to months depending on the level of processing. Using a drone and photogrammetry can reduce that wait time to a few days.
| | |
| --- | --- |
| Google Earth 3D | Photogrammetry with Drone |
| Google Earth 3D | Photogrammetry with Drone |
At Clark Dietz, we currently provide fly-over video and photography and small-scale survey and 3D-modeling. We always look for better ways to help clients and the public understand and visualize what's possible in our built environment and drones are a great tool to do that.