This past spring (2019) the U.S. EPA approved the Wisconsin River Total Maximum Daily Load (TMDL) to help with water quality improvement in the Wisconsin River Basin that's been affected by excessive phosphorus loads. High levels of phosphorus cause problems in our waterways by creating an increase in plant growth and harmful algae blooms. These blooms can create dead zones and produce toxins that are harmful to human and animal health.
Phosphorus in the Wisconsin River affects the state from northern Wisconsin down through the middle of the state to Madison as water enters the basin at various points. You may be wondering if your facility can handle these proposed phosphorus limits or if it'll need an upgrade. The TMDL included site-specific criteria that are less stringent than the current water quality criteria, however these criteria are still awaiting formal approval by the EPA. If the proposed limits are approved, it should be more affordable to reach them, possibly without having to undergo a complete rehaul of your wastewater treatment facility.
Below we've highlighted our Wausau office neighbors, but this affects locations all along the Wisconsin River basin.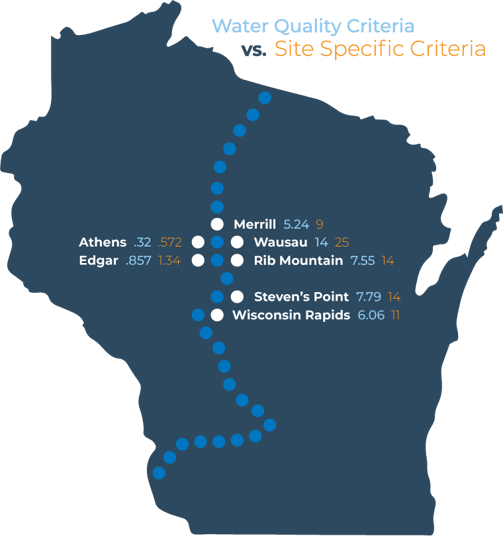 Recently, I ran calculations for the Edgar Wastewater Treatment Facility (WWTF) to see an example of the differences between the current and proposed criteria, and came up with these findings:
Using the Current criteria and the projected future flow rate of 0.27 MGD, their daily phosphorus limit is 0.38 mg/L.
Using the Proposed site-specific criteria and the projected future flow rate of 0.27 MGD, Edgar's daily phosphorus limit is 0.6 mg/L.
This might look like a very small difference, but in the world of phosphorus removal, this is quite large. The cost impacts could be huge! It might mean the difference between installing a new treatment process or just increasing chemical feed in the plant - two very different processes.
Since the rules are not going away, you'll want to carefully examine your options. You will first notice a change in your phosphorus limit when the DNR sends your facility's next permit. The permit will include a timetable for meeting the new limit. The first step will be to complete an Optimization Plan. Ideas for optimizing an existing plant without a complete rehaul include:
Increase chemical addition
Add chemical at additional location
Optimize biological nutrient removal (BNR) process
If your facility can't meet the proposed limits with optimization, phosphorus removal technology continues to evolve. Some options are:
MBR
Tertiary treatment

Filtration
Experimental process

WWTF treatment technologies

COMAG® Ballasted Settling System
ACTIFLO® Ballasted Settling System
Ovivo TriSep Membrane System
Aqua-Aerobic Systems AquaDisk® CMF and UF
Clearas Water Recovery
CMP AirPrex® Struvite Harvesting
NRU CalPrex Phosphorus Recovery
The DNR is currently planning public hearings on the site-specific criteria for Lake Wisconsin, the Petenwell Reservoir, and Castle Rock Reservoir along the Wisconsin River basin. The results of these hearings could cause additional changes or things to consider. Thinking about various options now is a good first step in starting your new phosphorus limits process and being in compliance. Let me know how I can help!