On July 26th, 2022, Nirav Patel (PE), Steve Meyers (LC, LEED AP), and Kendrick Payne (PE, LEED AP) of Clark Dietz arranged a tour of the Joliet Wastewater Treatment Facility in Channahon, IL. Clark Dietz has recently replaced the mechanical and electrical equipment for the Influent Lift Station, so the tour was an opportunity for younger and newer staff to see the updated wastewater treatment facility.
Employees learned about equipment that had been replaced or renovated. The tour was a walkthrough of the Influent and Wet Weather Lift Stations, the Blower building, grit station, sludge digester tanks, chlorine room, storm retention pond, and a tunnel underneath the grit station with air and sludge pipes.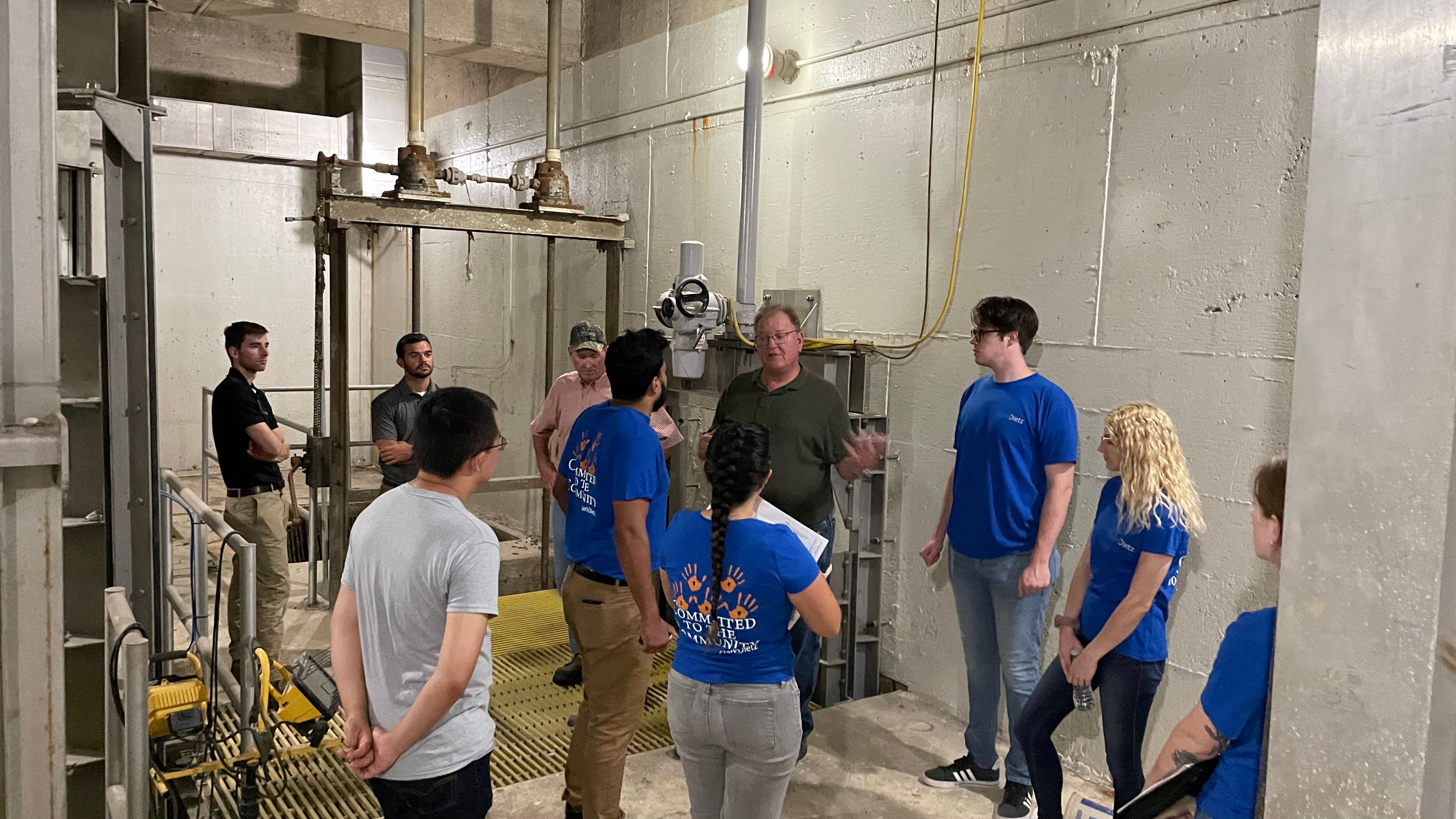 The Chicago Mechanical/Electrical team with the Joliet Wastewater Treatment Plant workers during the tour.
Mechanical/Electrical engineering intern, Allison Wilkins, was on the site for the tour.
"Each of the Lift Stations can process 28 million gallons per day – the sewage pipes run to the Influent station, and there is a branch on top of the main pipe that leads to the Wet Weather station, which is mostly used during storms for overflow," Allison explains.
"The storm retention pond can hold up to 25 million gallons when completely full. This pond allows the plant to run at its maximum capacity (56 million gallons per day) and will empty its contents back into the plant to be treated once the volume decreases. During the renovation of the Influent Lift Station, all incoming materials were sent to the Wet Weather Lift Station to be treated. This is quite the luxury – a lot of wastewater treatment plants don't have the ability to function at normal capacity when they need to do maintenance on their main lift station."
The next part of the tour was the grit station, where most of the separation within waste happens. Primary treatment separates non-organic materials in waste, and secondary treatment takes the organic materials for further treatment.
Then, the digester tanks are kept at temperatures of 98 – 100° F for the breakdown process. Methane gas rises and pushes on the lid of the tank. The pressure this creates will be pushed out of the tank and burned off.
"One of the most interesting parts about the plant was that the only pumps being used are in the Lift Stations and in the grit station, which get all of the sludge to the digester tanks. All other processes just need gravity," Allison explains.
Thank you to Clark Dietz engineers Jim Edenburn, Nicholas Rademacher, and the City of Joliet Director in Plant Operations, Nick Gornick, for giving the tour.