Departing for Guatemala is always the same, everyone is anxious to arrive in the village and get their hands dirty bending rebar, mixing concrete, and digging trenches. You can feel the anticipation as everyone enthusiastically chatters. What's all the excitement about? Each March, a group of volunteers with Wisconsin Water for the World travel to Guatemala to help design and install a water system. Wisconsin Water for the World is a committee within the Wisconsin Section of the American Water Works Association (WIAWWA) whose mission is to improve the quality of life for communities in the rural mountains of Guatemala by providing safe water and healthy sanitation. It's also a way for us to contribute to goal 6 of the United Nation's 17 Sustainable Development Goals to be achieved by 2030. Goal 6 is to "ensure access to water and sanitation for all."

How do we select a project?
Every year we work in partnership with a local Non-Governmental Organization (NGO) called Agua Para La Salud, which translates to "Water for Health." Villages that are interested in a water system contact the NGO. Once selected, the community teams up with Wisconsin Water for the World. Both groups take on different responsibilities for a common goal of ensuring the project is organized, sustainable and successful.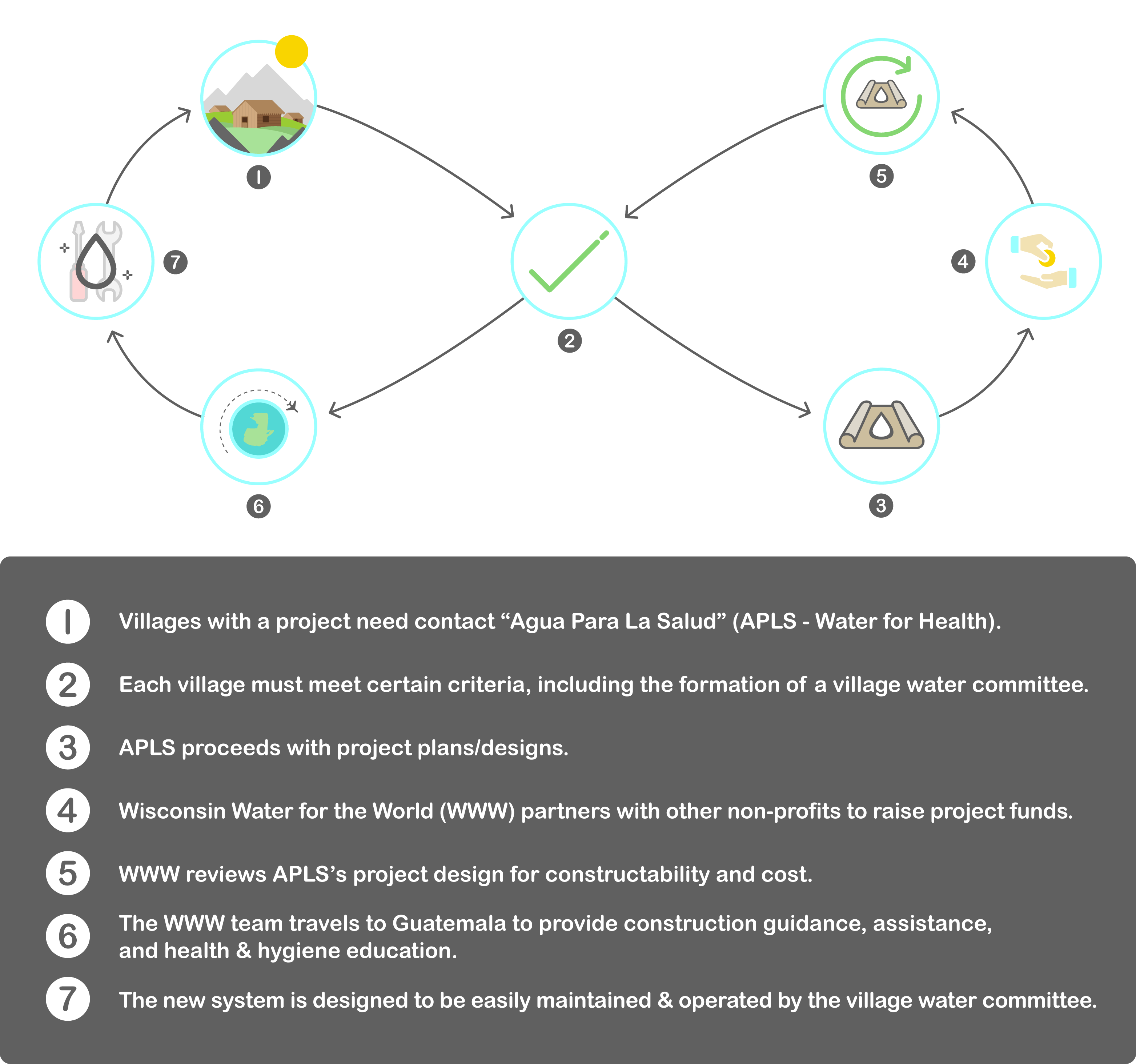 The project begins
It's day one at the project site, and we are ready to get started. We've come prepared wearing work clothes, gloves and boots. Our tape measures, rebar tie wire tools, and sharpies are close-by. We begin working alongside the people from the community that will be receiving the water system. Some of us speak some Spanish, but no one knows the native language. There's some fumbling through conversations as we rely on translators to work out technical conversations. Mostly we communicate with hand signals, drawing pictures, a few words that we have picked up along the way, and a lot of smiles. At lunchtime, we gather to share a meal together that has been prepared by the women in the community. Afterward, we work until we realize that school has ended. Curious children join in to watch us work and often pull us away from our tasks so that we can play soccer, fly kites, build paper airplanes, or draw pictures. At the end of the day, we return to our rooms dirty, exhausted, and feeling alive. Early the next morning we're ready to work again. Familiar faces welcome us back to the job site and we begin where we left off the day before.






As the week unfolds, a shift occurs. Our dedication to manual labor evolves into an appreciation for the connections that grow within the community. We're forming friendships with our colleagues that run deeper than what we've developed at home. It's becoming clear that this isn't just about installing water services. When invited into the homes of the people in the community, we learn about their lives and share what's important to us. Spending time in the local school lets us connect even further. With the school supplies we've collected for the trip, we teach about the importance of hand washing. In affluent countries, we take this habit for granted while 1,000 children die each day because of diarrheal diseases due to a lack of access to safe water and healthy sanitation. (Source: un.org)

Shifting from a task mindset to a human connection
It's important to educate future generations on healthy hygiene practices while also establishing an understanding that they can be anything. As a woman in the water and wastewater industries, this holds a particular weight for me. Young girls from the village would take an interest in watching me work. They likely do not see women perform construction work or participate in a role that is traditionally a male one. When they see me acting in this non-conforming way, what's possible becomes real for them. I'm grateful for the privilege to show them that they have a place in engineering a better world.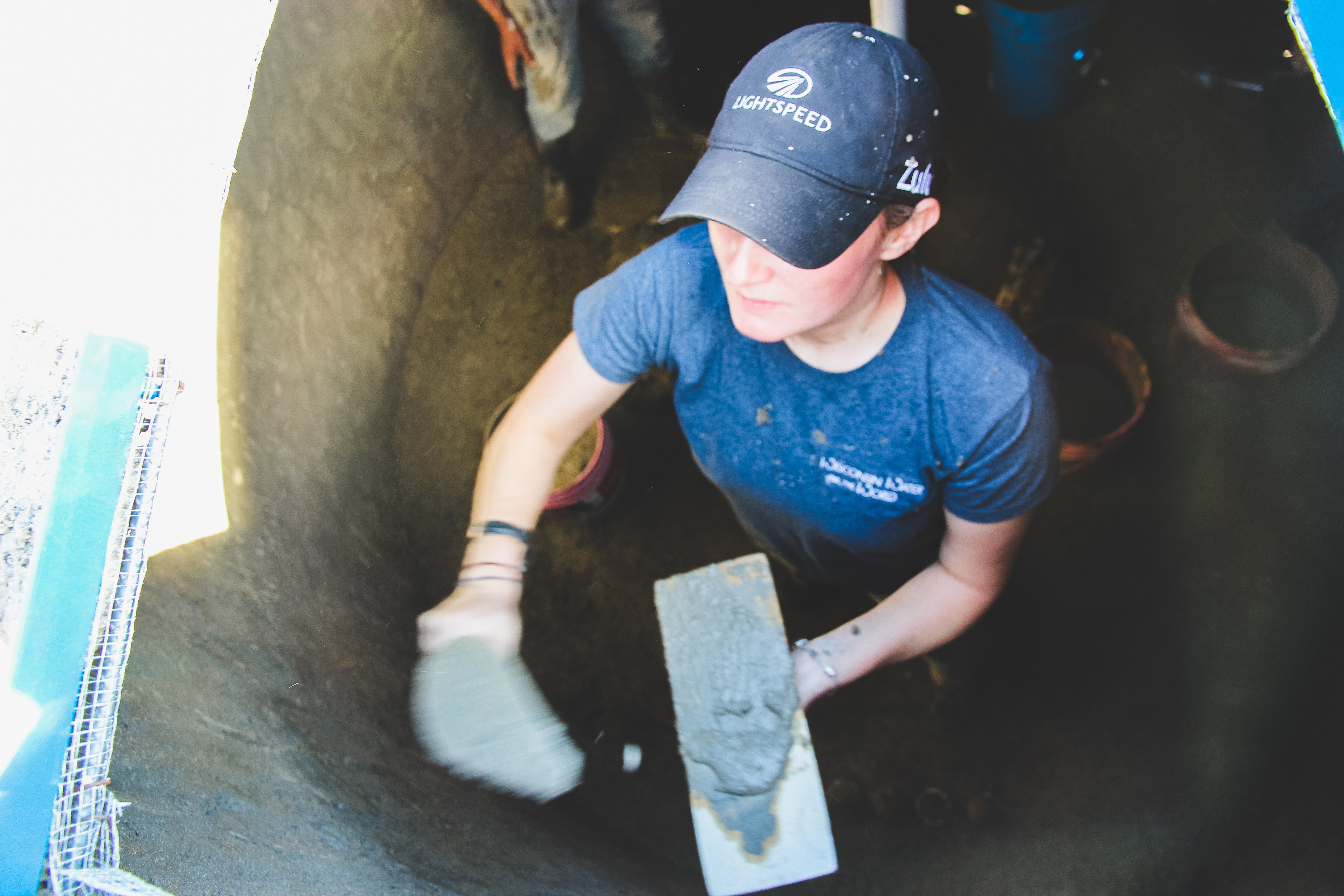 As the project completes, a longing begins
Construction continues, but it becomes secondary. The project is now more than water tanks and pipe in the ground. Real connections have been made between people from different cultures, sharing a universal human desire to take care of our families by providing safe water and sanitation. Each of us leaves a piece of ourselves behind in Guatemala and has changed in some way. Back at home, we are humbled and grateful for our seemingly limitless supply of drinking water in our homes. A longing to return to Guatemala for another project begins. Holding onto what we've experienced in our hearts, the feeling invigorates and prepares us for the next trip. It can't come soon enough.